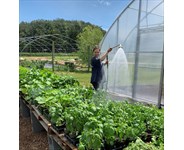 1. Set up your customer profile! Sign up as a customer for free OR purchase a membership as a donation to Project GROWS.

2. Start shopping! Simply choose the items you'd like and check out via a secure Stripe connection. You can filter by category and producer to help find the items you want.

3. Pick up your plants! Plant pick-up will be drive-thru only on the Project GROWS farm. Friday, May 7th from 4 PM to 6 PM.

If you are enrolled in SNAP, you can use your benefits to purchase edible plants! Please reach out to laura@projectgrows.org, to get started!

For more detailed instructions please visit the "How it works" section of our website. read more...